Source : fabula.org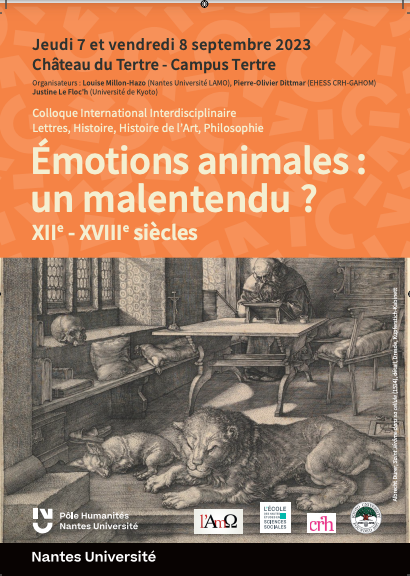 Du au

À : Nantes Université –
N.B : Pour obtenir le mot de passe du lien zoom et suivre le colloque à distance, merci d'écrire à cette adresse : 
Louise.Millon-Hazo@univ-nantes.fr
—
Jeudi 7 septembre
 9h30 Accueil 
10h Introduction (P.-O. Dittmar, J. Le Floc'h, L. Millon-Hazo) 20 min
10h20-11h00 Karl Steel, Conférence d'ouverture :  "The 'rage of wild beasts' and the 'reasonings of men' (Wisdom 7 : 20): Animal anger in the Middle Ages"
Pause 11h00-11h20
Session 1 : Débats 
Présidence Damien Boquet
11h20-11h40 Nicolas Correard : « L'origine animale des émotions : Marin Cureau de la Chambre »
11h40-12h Benedetta Piazzesi : « Connaître les émotions animales pour les gouverner (XVIIe-XVIIIe siècles) »
12h-13h Discussion
13h-14h30 Déjeuner
Session 2 : Rencontres
Présidence Justine Le Floc'h
14h30-14h50 Louis-Patrick Bergot : « L'empathie animale dans plusieurs récits chevaleresques du Moyen Âge »
14h50-15h10 Aude Volpilhac : « Il vint à m'aimer, à me connaître, à entendre son nom, et à distinguer ma voix ».  Malentendu scientifique et poétique galante des émotions animales dans l'Histoire de deux caméléons (1688) de Madeleine de Scudéry » 
15h10-15h30 Lucie Schneller Lorenzoni : « Les chiens et les Toulousains aux XVIIe et XVIIIe siècles : des histoires d'amour »
15h30-17h00 Discussion
20h Dîner de colloque 
 —
Vendredi 8 septembre
9h00 Accueil
Session 3 : Poursuites 
Présidence Louise Millon-Hazo
9h30-9h50 Myriam White : « Les émotions des chevaux dans quelques textes littéraires médiévaux »
9h50-10h10 Irène Salas : « "Pourquoi me chasses-tu ?" Les merveilleux effets des larmes du cerf (MA-XVIIe siècle) »
10h10-10h30 Margot Constans : « Enseignement pragmatique et discours sensible dans un traité de fauconnerie occitan (XIIIe siècle) »
10h30-11h00 Pause
11h00-12h30 Discussion
12h30-14h00 Déjeuner
Session 4 : Portraits 
Présidence Pierre-Olivier Dittmar
14h00-14h20 Loreline Pelletier « La Rage du loup ou la critique de Salon du XVIIIe siècle face à l'émotion animale »
14h20-14h40 Guillaume Cassegrain « Nom d'un chien. Le pathétique animal dans la peinture de Titien »
14h40-15h40 Discussion
15h40-16h00 Pause 
Table ronde conclusive : philosophie animale et éco-poétique
16h-17h30 Florence Burgat, Pauline Goul, Jan Miernowski et Pierre Schoentjes.